International Student Panel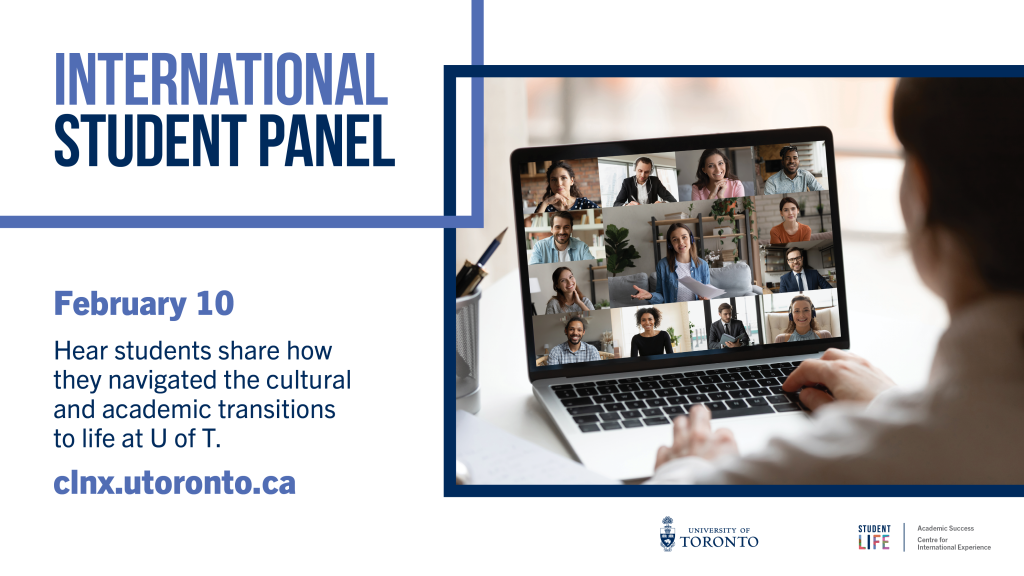 International Student Panel & Networking Event 
Thursday, February 10th: 5 p.m. – 6:30 p.m. (on Zoom)
Come join this online panel event where four international student panelists will share their insights and tips with you about navigating cultural and academic transitions while studying at U of T. Some of the topics that we will discuss include:
Transitioning and adapting to a different educational system
Adjusting to cultural norms and practicesin academics
Managing time for school and co-curricular activities
Reflecting on language-based challenges and successes
Making social connections and finding community
Working in Canada and planning for post-graduation
Following the panel, you will also have the chance to join a themed breakout room facilitated by one of the panelists and international student leaders to ask follow-up questions and engage in conversation about shared experiences. This will also be a great opportunity to meet other students from across the university and expand your networks.
Attendees will also have the chance to win one of five $10 Starbucks e-gift cards!
The event will take place over Zoom for 90 minutes and include opportunities to interact by asking questions in the chat or verbally. Hosted by Academic Success and the Centre for International Experience.
Register on the Career and Co-Curricular Learning Network (CLNx) using this link: https://clnx.utoronto.ca/home/slevents.htm?eventId=39969