Your path towards achieving your desired goal may not be the same as others. Be strategic!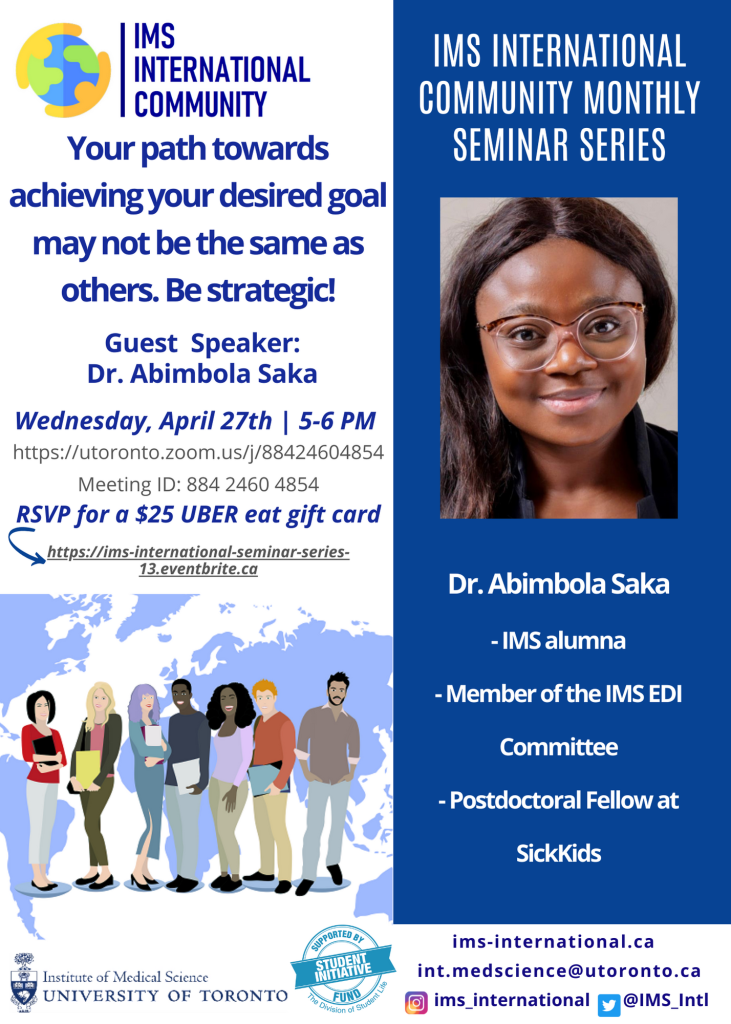 Join us on April 27th for the 13th IMS international Seminar Series hosting Dr. Abimbola Saka "Your path towards achieving your desired goal may not be the same as others. Be strategic!"
RSVP for a 25$ UBER eat gift card:
https://ims-international-seminar-series-13.eventbrite.ca
meeting link:
https://utoronto.zoom.us/j/88424604854
Dr. Saka received her Bachelor of Science (Anatomy) degree from Olabisi Onabanjo University, Nigeria (2010), and her Doctor of Medicine degree from Washington University of Health and Sciences, Belize, in 2014. Between 2015-and 2016, she completed a post-graduate externship in Internal Medicine, and Family Medicine, at Presence St. Joseph's Hospital in Chicago, and Florida Hospital, Celebration, Florida, USA. In 2017, she obtained her MBA in Health Service Management from Keller Graduate School of Management, Orlando, Florida. Since completing her MBA, she has worked closely with kids with intellectual disabilities, focusing on allocating personalized resources to help improve their care through Public Health Management Cooperation in Pennsylvania. Dr. Saka joined the University of Toronto's Institute of Medical Sciences in 2018, where she pursued a Master of Health Sciences, Translational Research. She has since worked with Holland Bloorview Kids Rehabilitation Hospital in clinical research and co-developed the first pediatric alumni network. In collaboration with the Holland Bloorview IDEA task force and Data Action committee, she supported an inclusive, diverse, equitable, and accessible workplace for clients, families, caregivers, and employees. Her research interests include EDI, social determinants of health, health systems research, and implementation science research. As an alumnus of the Institute of Medical Sciences at the Temerty Faculty of Medicine, she is a member of the IMS EDI Committee. Dr. Saka currently works as a Postdoctoral Fellow at SickKids and continues to work towards her pediatrics residency training.